Commercial Finance Division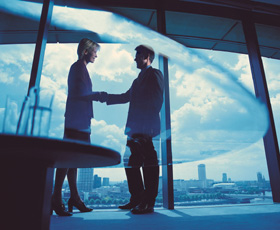 Charter Adjustments Corporation's Commercial Finance Division has been the cornerstone of our organization's success over the last 20 years. We have established a proven track record of excellence in both recoveries and superior service for our clients.
Our core staff has over one hundred years of combined experience in the commercial collection field.This knowledge and expertise benefits our clients by having their claims handled quickly, efficiently, knowledgeably, and profitably. The availability of our in-house attorney for claims in California and the use of Commercial Law League attorneys for all other matters assure our clients of professional and bonded legal representation.
Charter Adjustments Corporation provides to its clients the power of a full service collection agency. Charter provided to clients a flexible service which allows for conventional collection methods as well as new and effective recovery methods.
Providing collection of past due and charged off commercial accounts receivable in a wide variety of industries
An experienced work out collection department for asset based lenders
Dedicated staff handling lease delinquency collections
Collection division specializing in full deficiency balances for the finance industry
World wide network established for skip tracing and visits
We have state-of-the-art collection tools available to us. Our clients are also encouraged to utilize our on-line system for review and placement of all their accounts and access to our database. This coincides with our company's philosophy that the client should be totally informed of the status of their accounts and we provide the service to make sure of it. In addition, we can utilize our world-wide network of field agents to visit, evaluate, and make demands at debtor locations.
The goal of our Commercial and Financial Recovery Division is to provide the best quality of service in the industry in the most economical way.
We at Charter Adjustments Corporation look forward to tailoring a program to meet your collection needs. References are available and will be provided upon request. We encourage you to contact these companies to learn what CAC has done for them. For more information on our Commercial and Financial Recovery Division, please contact Steve Parker, President & CEO.